You and your fellow HDFC shareholders CAN help to win this fight!  Here is how:
Download and print the flyers and information on this website, and organize your building and other HDFC buildings within your City Council Member's district. Because HPD needs the City Council's support to help put these changes into effect, our best strategy is for as many shareholders as possible to write letters and emails to our local City Council Members.  Find your local City Council Member by clicking here: http://council.nyc.gov/html/members/members.shtml
It is also extremely important for each and every shareholder to write the Speaker of the City Council, Melissa Mark-Viverito.  Her contact information is:
Melissa Mark-Viverito, Speaker, New York City Council
District Office
105 East 116th Street
New York, NY 10029
Email: mviverito@council.nyc.gov
District Office phone: 212-828-9800
Also, you and your shareholders can get involved at your local Community Board, and express your concerns at a Housing/Land Use Committee Meeting and also at a General Meeting.  Find your Community Board by clicking here: Bronx CBs  Brooklyn CBs Manhattan CBs  Queens CBs  Staten Island CBs
Examples of letters other HDFC shareholders have written can be found below:
Dear Honorable New York City Council Member                           :
As a constituent and an HDFC shareholder located at ___insert your building's address here___, I am writing to alert you that the proposed new HPD regulatory agreement and a repeal of the D.A.M.P. tax cap being considered threaten to tear apart HDFC communities in your district that have been in place for decades. HPD has, by its own admission, been quietly working on this plan for more than a year without any HDFC shareholder input to speak of. HDFCs have not even been formally notified. Perhaps you are not aware of how damaging this plan would be, so I would like to present my perspective, which is shared by my neighbors and the vast majority of those who have packed recent Community Board meetings.
Most HDFCs have been transformed into thriving communities over the past decades, thanks to the hard work of founding shareholders and those who have joined over the years. Forcing successful HDFCs to submit to these highly restrictive HPD regulatory agreements or lose their D.A.M.P. tax cap is unfair. Most HDFCs and homeowners have complied with the rules and made life-altering financial decisions in good faith. The proposed restrictive price caps and monitoring requirements would undo the financial stability that most HDFCs have achieved. The proposed alternative to submitting to these new regulatory agreements—loss of the D.A.M.P. tax cap, which is not set to expire until 2029—would be most devastating to those homeowners that the plan is supposedly designed to help, including founding shareholders, low-income shareholders, and those on fixed incomes.
Preserving affordable housing is a laudable goal, but this plan would wipe out equity that low- and middle-income homeowners have worked hard to build over the years, and break the contracts the city made with these residents years ago. Helping those HDFCs that are in distress is also a laudable goal, but HPD's ill-conceived plan is not the way to help them.
Will you help us by opposing this ill-conceived and unfair proposal, and ensuring it is not introduced in its current form?
My neighbors and I would be happy to meet with you to discuss further.
Thank you,
Please cc the HDFC Coalition at hdfccoalition@gmail.com as well!  If you write an actual letter (politicians love them), please scan it and email it to us!
Please click on the petitions below now, sign, and share with everyone you know! Then join our mailing list below!
https://www.change.org/p/nyc-council-speaker-melissa-mark-viverito-protect-our-hdfcs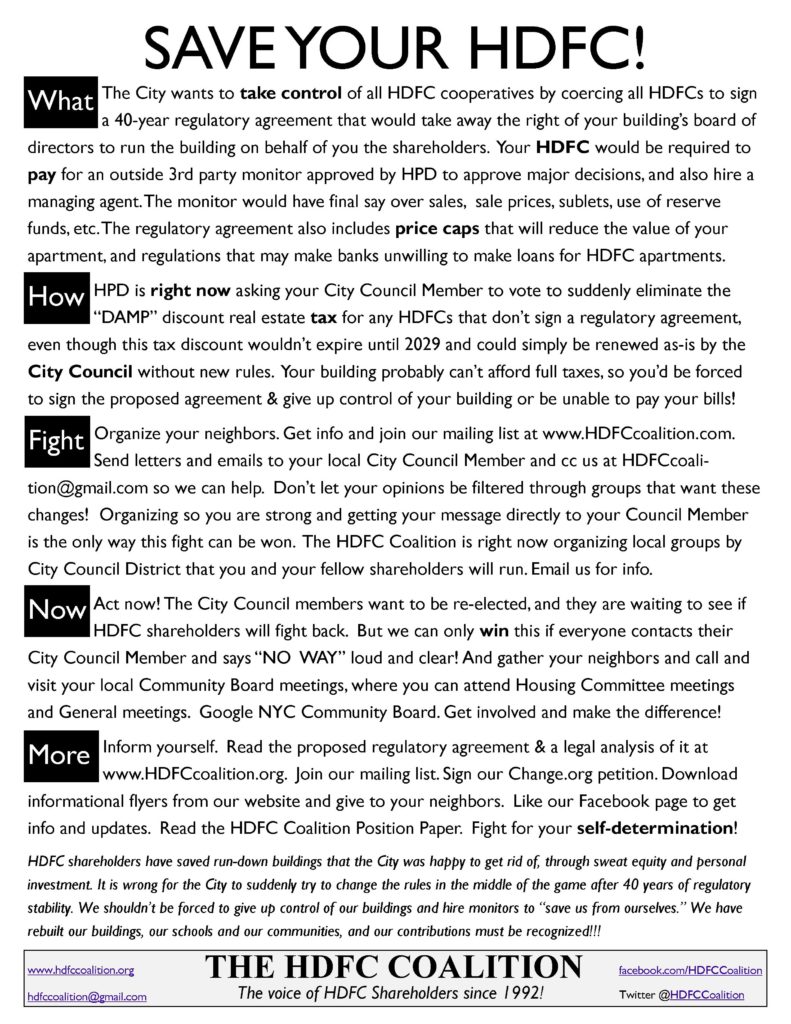 Have you joined our mailing list?  Our efforts are gaining traction but we still want and need your involvement to ensure the success of our efforts to protect and preserve our beloved HDFC coops.  Please join the HDFC Coalition and keep informed of upcoming news and events by clicking below.  And…make sure your fellow shareholders in your building and others do, too.  Share this link and spread the word!